Mk 1 EFI Conversion
This is where it all started, the Mk1 conversion was more of a development phase to test the system.
All components sourced from modern mass produced production cars to ensure:
Reliability;
World wide availability;
Reasonable prices.
The only part not sourced from a production car was the ECU, this was due to the difficulty involved with reprogramming and lack of support. The Emerald ECU was chosen as it has all the features required, reasonable price, unrivaled support from the manufacture and supported at dyno/mapping facilities.
The system was initially fitted to a standard 120HP TR6 and mapped at Emerald.
Dyno Session 1
We experienced a couple of teething problems on our first visit, running out of fuel and finding the limitations of the original throttle linkage. However, we came away with the engine mapped to 4,000rpm, the requirement to redesign the throttle linkage and brace the crank trigger sensor mount and a lot wiser about the preparation required before going again.
Dyno Session 2
Now fully prepared with a revised throttle linkage, sensor bracket and spare fuel . The day went as planned with the following results: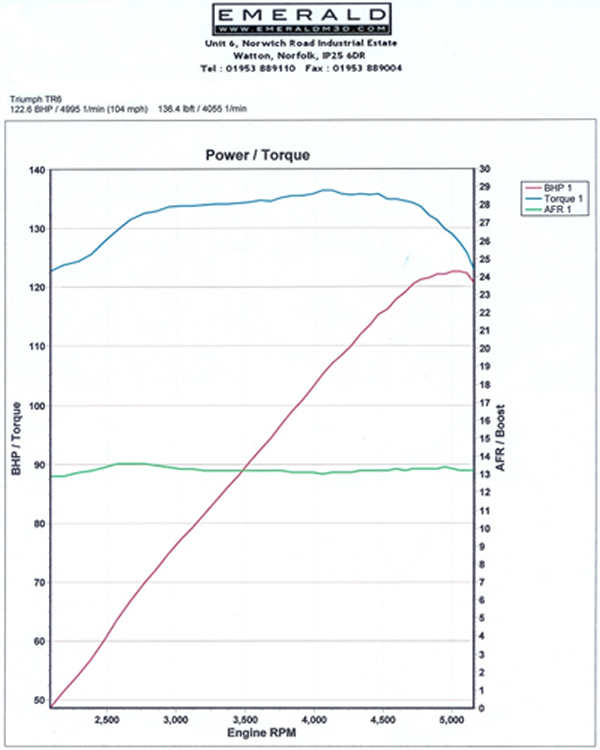 The system was then tested for 2 years, numerous short and touring events. This proved that the solution met the original requirements.
The Mk1 conversion has now been superceded by the Mk2